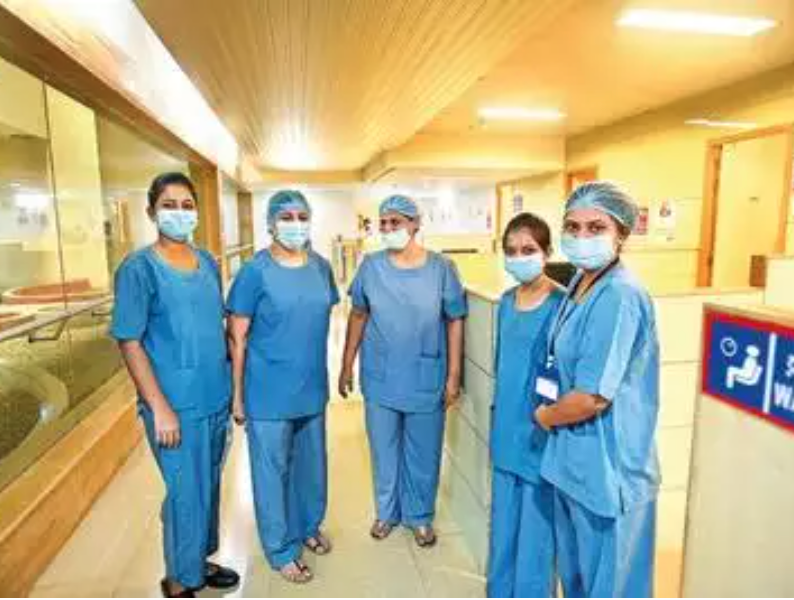 Mumbai: Anuja Jayaraman's father-in-law SN Subramaniam came home after seven days of treatment at Sevenhills Hospital in Andheri last month. And even though his mother-in-law Sivakamu lost his battle with the virus after 42 days in the same hospital, Jayaraman has regained some degree of confidence in the city's public health system. "We really believe that public health worked in Mumbai during the epidemic," she said, calling the compassion shown by doctors and nurses "exemplary".
The hospital, primarily known for its legal battles with the BMC and a multi-crore rupee insolvency, could become the city's unexpected defender in an epidemic, handling its Kovid's fifth entry. Last week, Sevenhills accepted more than 21,000 patients – the most from any Kovid facility in Mumbai. "We knew that this was the only facility that could be read in the shortest possible time. Additional municipal commissioner Suresh Kakani said the decision paid off.
On March 9, a day after the state reported its first two Kovid cases, former civilian chief Praveen Pardeshi visited the hospital and gave orders to bring it to life. Although always known as a 1,500-bed hospital, 306 beds were ever established, of which only 55 were operational since the hospital's brainstorming in 2018. Pardeshi's brief time was not just to activate 306 beds, but to build 1,200 extra fast.
Mission 'Renewen Sevenhills' began on the same day Mumbai reported its first two Kovid cases (11 March), with basics such as clearing debris from partially built floors. Officer-Special-Duty Dr. Maharudra Kumbhar recalled that day at least 350 trucks of debris discharged from the hospital premises. Laborers were also welcomed with some expected sites – more than 50 snakes were found. There was no time to stop in the next 48 hours, the eighth-floor ward was to be kept open as a quarantine facility. Everything from lights, fans, kitchens, canteens to diagnostics and bio-medical waste disposals had to be made operational.
After walking into the first international passenger quarantine facility on 14 March, news spread and hundreds of laborers fled. Dr. Balkrishna Edsul said that work resumed after a lot of kajoling but manpower remained one of the biggest challenges till June. Private hospitals such as HN Reliance joined the management of wards and ICUs, while Aditya Birla Foundation, Jupiter Hospital worked with providing beds repair and other equipment.
Kumbhar said that the hospital had its worst day on June 16 when its oxygen capacity was to be increased by adding 13 kiloliters to the tank, but this would require the existing tank to be closed for four hours. "We had 350 patients in support of oxygen, but all recovered," Kumbhar said.
Sevenhills saw the highest number of Kovid deaths in hospitals. Out of nearly 3,000 ICU admissions, 44% succumbed. ICU Incharge Dr. Rahul Sanwaliya said that he did not refuse many serious patients, including MMR, who came with many comradities.
A portion of BMC's Kovid spending, around Rs 200 crore, has gone to the Sevenhills in a breath-taking life. Kakani said Jumbo Field Hospitals could eventually be demolished, while Sevenhills would continue to look after Kovid.